How And Where to Sell Your Gold
2/21/23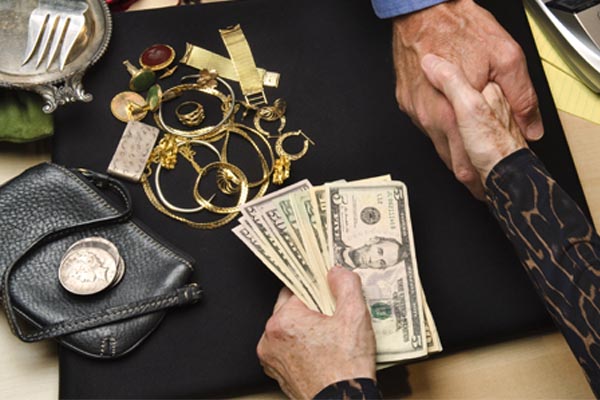 What is the best type of place to sell gold items? Does where you go to collect cash for gold matter depending on what types of gold you have to sell – jewelry, gold coins, watches, or more? If you are shopping around for a place to sell gold 'near me,' you may have discovered that online retailers, local pawn shops, and jewelry stores are all gold buyers that may be available to you. Before you chose, learn which option is the safest, most professional gold buyer available to you. This includes understanding which one has the best safety and security measures, which will deliver cash for gold the quickest, and what option is most convenient for you.
The types of gold buyers available: Jewelry Stores
If you search "sell gold" or "cash for gold near me" online, you'll come up with three main gold buyers available in most areas. The first place available to sell your gold items is online. The next is a local pawn shop, and the final option is jewelry stores nearby. Jewelry stores are a unique place to sell gold items because the store owners and some staff members are usually experts in jewelry design and materials. These professionals can help you find out how much gold is really in the items you want to sell, but they may charge you for that information. If you're looking for a safe, secure, and free way to discover how much your gold items are worth before you sell, a local jewelry store isn't always the best choice.
Another inconvenient option for selling gold items at local jewelry stores is consignment. Selling items on consignment through a jewelry or thrift store means you give the store owner the items to sell for you. The store receives a portion of each sale, and you don't receive anything until each item sells. If you don't know the value of your items, or if you are looking to earn cash for gold quickly, selling on consignment through a local retailer is not your best option. These local retailers have major overhead costs to keep their storefront open, and consignment partners help fund their business expenses through the percentage of sales on each item. If there is more than one consignment retailer option in your area, you'll also need to spend the time to shop around to discover which one offers the best return for your items, and the lowest consignment fees.
Selling Gold at a Local Pawn Shop
Another option for selling gold and other items is a local pawn store. Unlike jewelers, pawn shop owners do not specialize in jewelry. This means they aren't the best option to help you understand how much gold is in each item you want to sell, what luxury jewelry and watch brands keep their value the most, or whether unique and antique jewelry is worth more. Some local pawn shops may specialize in gold coins, but this is rare and should be researched before deciding where to sell your coins. This option requires online and in-person research, to make sure you receive the best price for your gold items.
Professional Online Gold Buyers: Sell Your Gold
If you're looking for a safe and secure location to sell gold items that specializes in jewelry, gold coins, and other valuables – an online retailer is best. At Sell Your Gold, you will receive a fast, free appraisal for your gold items. We'll send you a free appraisers kit, with an addressed return envelope that insures your items up to $100k in shipping. We offer a one-stop-shop for all your gold items, so you don't have to go to a jeweler for a jewelry appraisal and a coin shop to sell your gold collectable coins. Sell Your Gold also offers a best price guarantee, so if you do shop around locally, it's worth sending for your free appraisal kit, to ensure you get the best price for each item, guaranteed.
Another reason to choose an online gold seller is confidentiality and security. Rather than selling at a local business, you can sell gold items online from the comfort, safety, and confidentiality of your own home. Our staff has hands-on experience with collectible gold coins, precious metals, and gemstones of all kinds. Sell Your Gold has more than 5,000 five-star reviews online from happy customers like you, and we are ranked A+ by the Better Business Bureau. We offer secure, free FedEx shipping with live online tracking door to door, so you can watch your items every step of the way. Our own facility has the highest levels of security to protect your valuables during the appraisal.
With more than 50 years of combined, professional experience, the Sell Your Gold team is ready to help you get the fastest, most convenient service and the highest dollar amount for all of your gold items. When you are ready to sell, pick the safest, most secure option – and get the most money – with Sell Your Gold. Our same day payments and satisfaction guarantee means you get paid for your gold items immediately, to the payment provider of your choice, or we'll return your items at no charge.