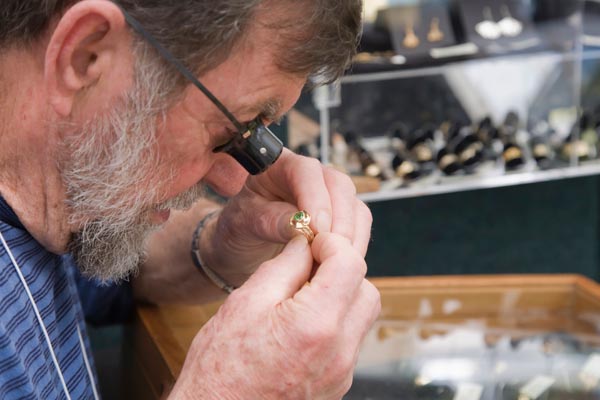 Do you have jewelry lying around that you no longer wear? Perhaps the items are scratched, broken, or made in a style that hasn't kept up with the times. Or, maybe you received the jewelry as a gift, or handed down from a family member. If you have jewelry items that you'd like to sell - but just don't know where to start, we are here to help.
Sell Your Gold is a top online jewelry appraiser and buyer in the US. We buy all types of gold and fine jewelry items. Our team is made up of highly experienced jewelry appraisers and to date we have already paid out over $60 million on behalf of our customers! Here are some tips to help you better understand the process of selling jewelry, including what to expect from a jewelry appraisal.
What is a Jewelry Appraisal
A jewelry appraisal is the professional process in which a certified industry expert examines your jewelry item and gives you a dollar-value estimate for what the piece is currently worth.
What Types of Jewelry Appraisals Are There
There are many different types of jewelry appraisal processes, based on the purpose for the appraisal. For example, some are for insurance purposes, others for resale. When choosing an appraisal process, the most important thing to ensure is that you pick the right process for the outcome you desire. Second, ask for a clear explanation of the grading process – what they are measuring and using to get to the final appraisal total. Also, make sure the appraisal process will end with a definitive value statement.
Insurance
For insurance purposes, the most common appraisal done, a different type of appraisal value is used – the retail replacement value. This is the amount of money that would be required to replace the property with something of similar age, quality, appearance, etc. on the current market. It also includes relevant sales and other taxes, commissions, etc. in the total value. There is usually a difference between the fair market value and the retail replacement value of an item. An insurance appraisal does not represent the actual market value of your items.

Resale
For resale, the "fair market value" of an item is defined as the price a willing buyer and willing seller would set based on relevant facts and intrinsic information about the item, including the items metal, purity, weight, carat, color, cut and clarity. A resale appraisal can sometimes by 1/3 to 1/4 as much as an insurance appraisal.
What is the Jewelry Appraisal Process Like?
Sharing the Jewelry Details
First, you'll provide detailed information about the jewelry item, including the type of metal it's made of, when and where you received it from, and the reason for the appraisal. You can share the retail price if you have it as well.

Evaluation
Next, the appraiser will evaluate the jewelry based on a few key factors, including metal composition, weight, measurements, and karats of gemstones. He or she will consider any documentation you provide, such as receipts and certifications of authenticity.

Decision
Finally, you will receive the results in a written document. This should include a description of how the appraisal got to the final appraisal.
At Sell Your Gold, our free appraisal kit comes with a risk free, no obligation guarantee. The kit includes all the materials you need to get cash for gold without leaving your home. In addition, the appraisal kit and your mailed items are insured and tracked from door to door. We also offer our clients a price match guarantee for the highest payout directly to you.
Sell Your Gold is a leading buyer of jewelry across the US. If you want to sell jewelry items safely and security from the comfort of your own home, our service can't be beat! We pay top dollar for rings, necklaces, pendants, charms, bracelets, earrings, cuff links, and much more. From diamonds and gemstones, to gold items, and from vintage and antique to estate jewelry – we are at your service. If your items are broken or scratched – regardless of the condition – we will buy your jewelry.
We also buy all designer and luxury brands. From Tiffany's to Cartier and Bvlgari to Harry Winston, if you have jewelry items to sell, no matter what the condition, we will offer top dollar! To learn more about how to sell gold without leaving your home. In addition, the appraisal kit and your mailed items are insured online with Sell Your Gold, please visit www.sellyourgold.com and send for your free jewelry appraisal kit today!