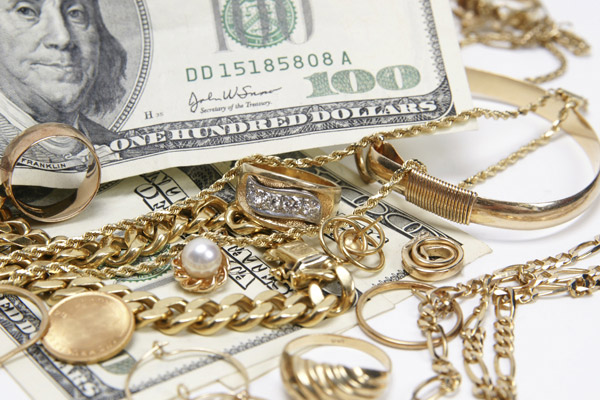 If you have old or unwanted jewelry sitting in a drawer collecting dust, ask yourself: Wouldn't it be better to earn some extra cash by selling the jewelry you no longer need? Of course the answer is "Yes!" To cash in on your jewelry, first you need to figure out where to sell your jewelry. Here are the 5 most important things to know when choosing a jewelry buyer:
Know Your Jewelry Selling Options

To decide where you should sell your jewelry, it's important to understand the secondhand jewelry marketplace. Today, there are many options for people seeking to sell jewelry or sell gold jewelry.

Pawn shops, coin stores, local jewelers, national jewelry chains, and online jewelry buyers are just some of the players in the market. With so many options for you to choose from, consumers risk getting "taken for a ride" without getting as much as they could for their jewelry!

Selling Local Might Not Bring the Best Price

Most consumers are not very experienced when it comes to selling their jewelry. Many jewelry sellers take their items to pawnshops or local buyers, and assume the offers they receive are fair and honest. Here's the bottom line: if you want to get the highest payment for your jewelry, it is essential that you understand there are other options that guarantee a high payout for your jewelry—keep reading to find out more!

Consider a Paid Jewelry Appraisal

To make sure you earn the most cash for gold when choosing where to sell your jewelry, you should realize the importance of a professional appraisal. An appraisal from the National Association of Jewelry Appraisers, the American Society of Appraisers, or the International Society of Appraisers helps you calculate the "replacement value" of your jewelry for insurance purposes. A professional appraisal can cost anywhere from $100 to $400, so make sure it is worthwhile before committing to getting your jewelry valued.

Get a Free Expert Jewelry Appraisal

A free appraisal from a reputable jewelry buyer like SellYourGold.com, which employs GIA-certified appraisers, will help you establish the true market price of your items—no matter their value. Some jewelry buyers, including SellYourGold.com, will factor previous appraisals into the payout you receive for your jewelry, and will even honor offers from other jewelry buyers!

The risk of skipping an appraisal is that you could potentially sell a very valuable piece of jewelry for a lower amount of money. So if you're not sure that a $400 appraisal is right for you, make sure to have your jewelry evaluated by a trained professional at a reputable online buyer.

Deal With Reputable Jewelry Buyers

Finally, when deciding on the best place to sell jewelry, check their online reputation. Many local jewelers and coin buyers have pretty storefronts but ugly business practices. Look for comparisons of jewelry buyers conducted by major news outlets, and check ratings at the Better Business Bureau.
So, now that you know how to decide where to sell your jewelry, go ahead and dust off your old jewelry collecting cobwebs. It might be worth more than you think!