What's it worth?
How and Where to Sell Estate Jewelry Online
5/2/23


If you are looking for ways to make money quickly, selling jewelry online is a great option. Jewelry that you no longer wear, is broken, or that you received from friends or family members are great items to recycle. Many people have unused jewelry items packed away at home or in a safety deposit box at the bank. Do you know the value of those items? Understanding how much each item is worth is as easy as well as getting it appraised online for free from Sell Your Gold.
What's the difference between estate, antique, and vintage jewelry?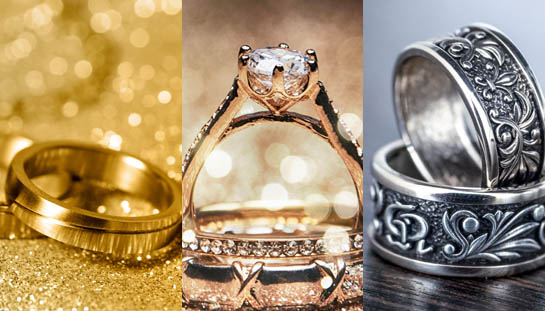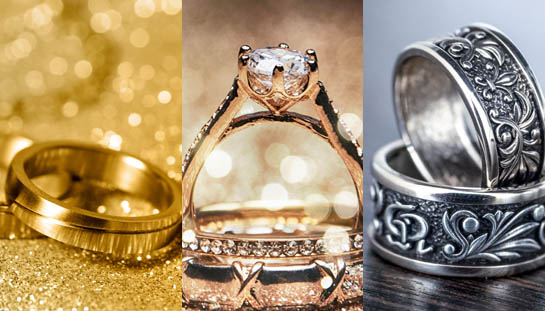 The terms estate jewelry, antique jewelry, and vintage jewelry all sound similar. If you think they all mean essentially the same thing, you are in good company. Many people misunderstand the difference between estate, antique, and vintage jewelry. In fact, the terms are often used incorrectly when describing jewelry for sale. To better understand what types of jewelry you own, it's good to know the real difference between these common terms.
Estate jewelry is any piece that had a previous owner before you. The jewelry could have been passed down to you by a family member. It could have been purchased from a second-hand or antique store, or given to you after the death of a friend or family member as part of their estate. A big misconception is that the previous owner of estate jewelry has passed away. Many people sell jewelry that they no longer wear, or pass items down to their relatives while they are still alive. This is still considered estate jewelry. In addition, age doesn't play a factor in whether we call something estate jewelry or not. Just because it had a previous owner does not mean the jewelry is old or 'antique.'
Let's talk about antique jewelry next. To be antique, a piece of jewelry must be 100 years old or more. Antique jewelry often showcases high-level craftsmanship and high-quality materials because more than 100 years ago jewelry was commonly made that way. Today, there are many types of materials that look and feel like gold or precious stones, but aren't. With antique jewelry, most items are made from pure precious metals and real gemstones. That's not a guarantee, however, and you should still have those items appraised to understand their true value.
Last but not least, vintage jewelry is between 50 and 100 years old. These items may have a more contemporary design than antique jewelry. They are often made with quality materials and craftsmanship, just like antique items. The term can be confusing when used loosely to describe well-known designs common to a certain time period. For example, 1980s jewelry has common design elements that make it easy to spot, and some people might refer to it loosely as vintage – even though it hasn't yet reached 50 years old.
What does an appraisal entail?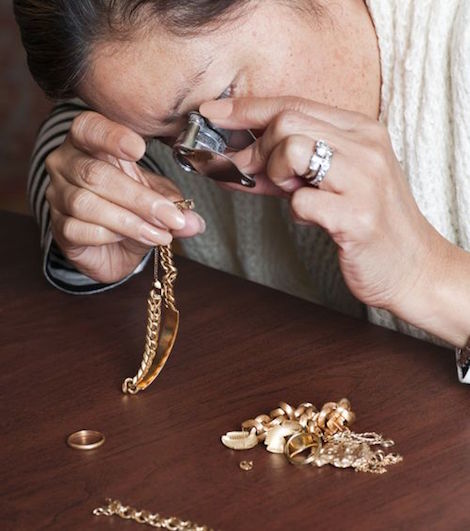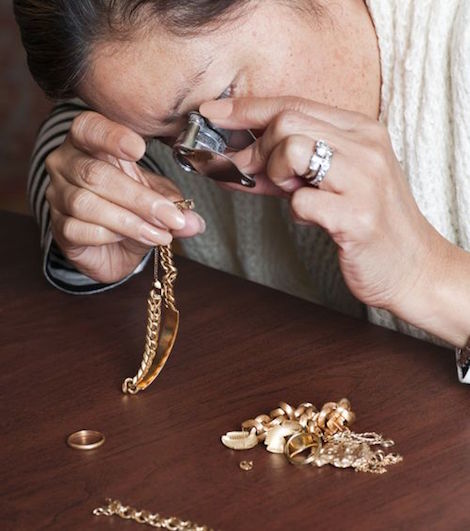 If you have estate jewelry that you would like to know the value of, getting a professional appraisal is the best way to determine whether it is antique, vintage, and what it's worth today. There are different types of appraisals you can ask for. Two of the most common are an appraisal for value and an appraisal for insurance value.
If you want to sell old jewelry, it's best to get an appraisal for value before you do. At Sell Your Gold, a free, professional appraisal is part of the customer experience. Ensuring that you know what your gold, silver, and other jewelry items are worth before you sell them is important to protecting your investment and ensuring you get the most for selling antique jewelry online, as well as gold and other items.
An insurance replacement appraisal is another common type of jewelry appraisal. It is a requirement for insuring the item for the amount needed to replace it if it is lost or stolen. The value appraised is most commonly the retail cost to replace the item with a brand new one but can also be as inflated as 100% higher than the retail value. Many retail jewelry providers will include this appraisal with your original purchase. For estate jewelry items that you want to insure, an appraisal for insurance value that identifies its current value will need to be completed. However, it's important to note, the inflated rate is NOT the value of what you will receive when you are selling it. This appraisal rate allows insurance providers to charge a higher premium to insure your jewelry.
The top reasons for selling antique jewelry
What are the most common reasons why people sell antique jewelry online? Any jewelry that you don't wear often is a good candidate to turn into money for other purchases, or new jewelry that better fits your style and daily needs. Many people who receive estate jewelry from a friend or family member keep the items safe at home without really understanding the value of what they have received. If they did know what the antique jewelry was worth, they might think about selling it.
There are many reasons people don't wear antique jewelry items every day. One is that it is worth too much to take the risk. Another is that its design is out of style. For many people, however, estate items are treasured heirlooms that they don't wear because doing so brings back memories of people we've lost. Instead, we save these items to wear for only very special occasions, or not at all.
The best reason for selling antique jewelry is to use the money you earn for something you need today. If you choose to sell online, Sell Your Gold will provide a free appraisal of value, so you'll know exactly how much your item, or items, are worth for resale. Knowing the value of your antique, estate, and vintage jewelry can help you decide whether you want to sell the items to invest in something else. With Sell Your Gold, selling unused jewelry items is safe, simple, and quick – you'll receive the money for the items you decide to sell immediately. You can learn how much your jewelry is worth and sell unworn items for cash, without leaving your home.
How to sell jewelry online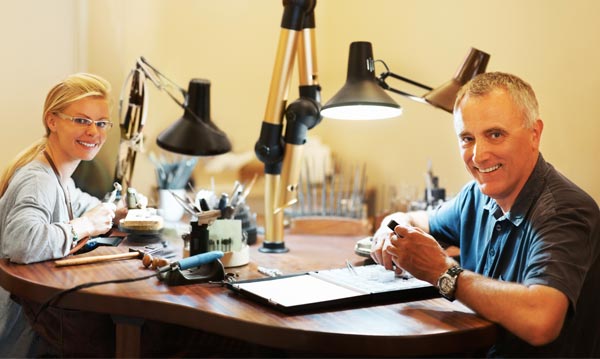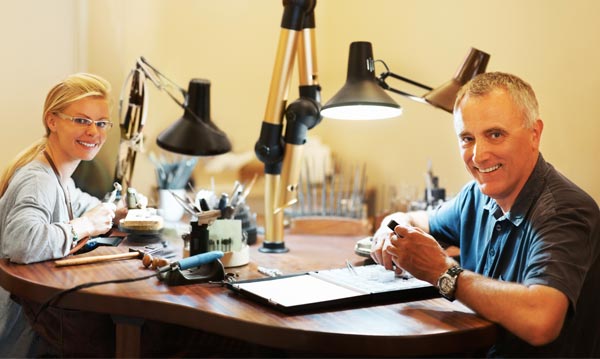 Sell Your Gold makes it easy to sell jewelry online, with a free jewelry assessment, insurance provided to cover the items you ship to us, and quick turnaround times. Our professional team has received hundreds of positive reviews online from the customers we serve, because our process is so easy, safe, and convenient no matter where you live, or what items you want to sell.
With Sell Your Gold, it's as easy as one-two-three:
Request your free jewelry appraisal kit today. It comes with everything you need to package and ship your items for appraisal via FedEx.
Package up the items you'd like appraised for sale and send them to us. Your jewelry is insured during shipment to our facility, and you can track the package every step of the way. You also receive free return shipping if you decide you'd like to have your items returned to you.
Get an offer the day your items are received. We'll turn around your professional jewelry appraisal the same day we get your package, and if you decide to sell the items to Sell Your Gold, we'll send you payment within 24 hours.
With Sell Your Gold you're protected with a 100% Satisfaction Guarantee and a Best Price Guarantee. We're confident that we can beat any online sale price and get you the most for the jewelry items you don't wear – so you can turn them into jewelry you enjoy every day!